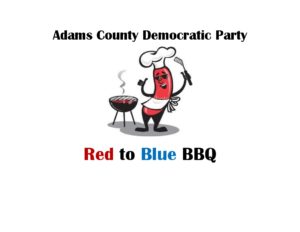 The

Red

to

Blue

BBQ will be held at Rotella Park at 1824 Coronado Parkway South Thornton CO, 80229 from

Noon to 3:00 PM

on

Saturday, August 25th

. There is plenty of parking in the area and lots of park space to enjoy.

Our goal for this event is to bring area Democrats together for a day of food and fun during this busy Election Season. This is a great opportunity to socialize with other Democrats and to meet some of our fantastic candidates running for office throughout our County and State.

Tickets are $10 per person and include food, water, and non-alcoholic beverages. Feel free to bring your own canned beverages.
All money raised by this event will go towards Adams County Democratic Party's Operating Expenses such as our NEW office.

Please use this form to RSVP: https://goo.gl/forms/h7QB8EiHBcD3zUh13 or buy your tickets on ActBlue so we can ensure that we will have enough food and drinks.

You can email us at officers@adamscountydems.org if you have any questions.